Most of us have at least one friend who strictly regulates their diet to be as healthy as possible. Personally, I have some pescatarian friends and a few vegan ones. While some follow these diets to be healthier, others do it for their love of animals and the environment.
Learning about the cruelty animals undergo before being killed has made me want to be vegetarian. Having grown up my entire life eating different types of meat and dairy, I feel like it would be difficult for me to stop all of a sudden. However, I have started to reduce my consumption of meat. Before, I would eat a form of meat at least once a day (usually twice); now, I try to limit my consumption for at least two meals a week.  
Though animal cruelty is a huge motive to reduce meat consumption, eating meat is also harmful to the environment. Consuming meat significantly increases our water footprint. "It takes more than 2,400 gallons of water to produce 1 pound of beef, while producing 1 pound of tofu only requires 244 gallons of water" (www.peta.org). There is so much of a difference because of the amount of water that animals consume while growing, in addition to the crops they eat which need water to grow. Even though we still end up eating some of those crops on their own, we double our consumption when eating meat/dairy products.
In the same way that eating meat uses up more water, it also uses up more land. "It takes almost 20 times less land to feed someone on a plant-based (vegan) diet than it does to feed a meat-eater since the crops are consumed directly instead of being used to feed animals" (www.peta.org). This occurs because there is more demand for meat than there is land for its production. Below, is a visual of how land is distributed globally.
In addition, those of us who eat meat have a higher carbon footprint than those who are vegan. Animals release methane as part of their digestion, which is one of the gasses that aids in climate change. By reducing our meat consumption, some of the land that is used for animals can be used by plants instead. Plants would reduce  the carbon footprint and aid in absorbing the emissions, thus assisting to halt climate change. Below is a chart to put into perspective the footprints of different things in most of our diets.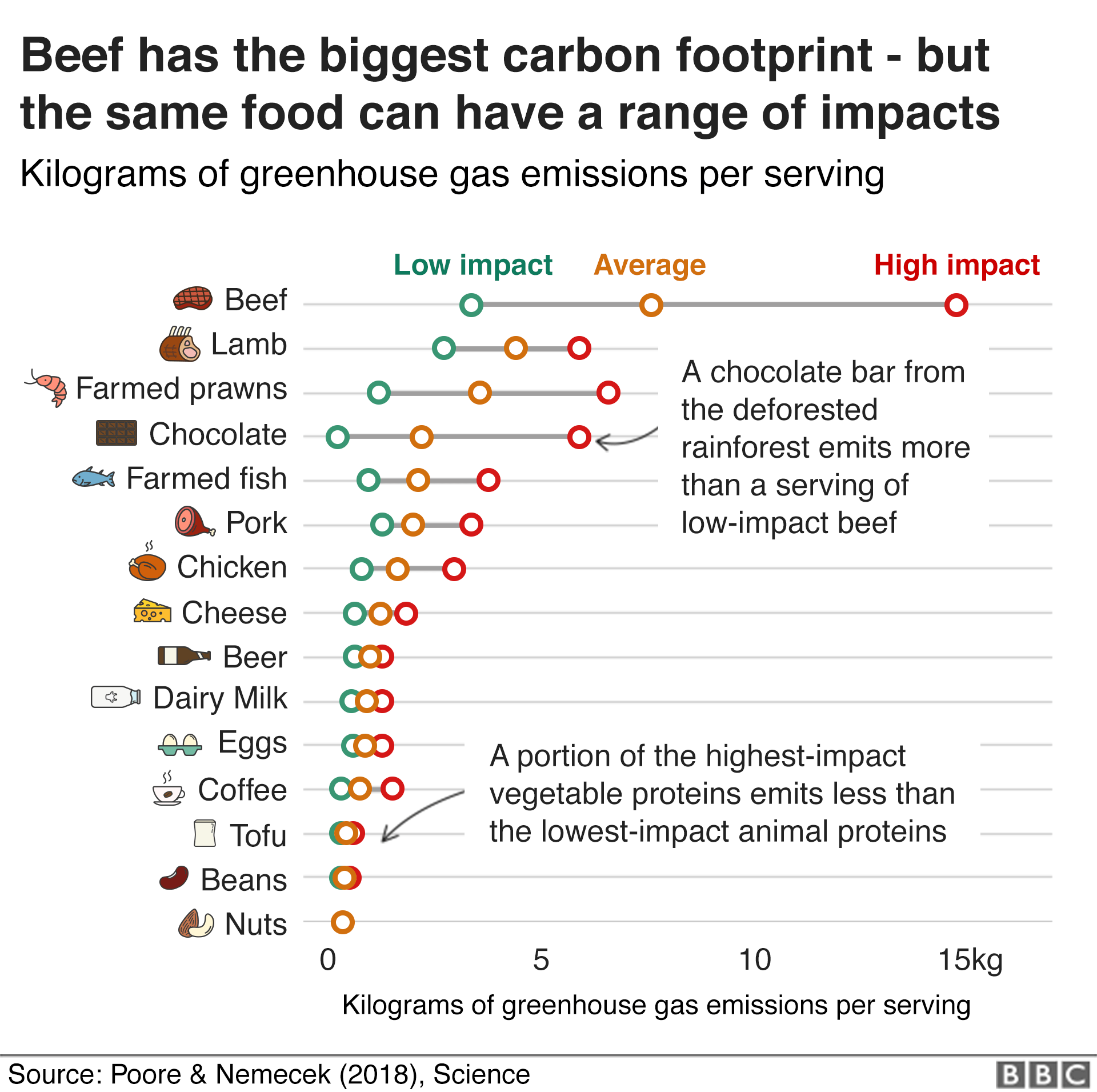 If you want to get a better idea of the environmental impact that your food consumption has, input the relevant information into the calculator below.
https://www.omnicalculator.com/ecology/meat-footprint#meat-footprint-greenhouse-gas-emissions 
We can make a positive impact on our planet by reducing our meat and/or dairy consumption, even if we start with just one plant-based meal a week. There are so many delicious vegan and vegetarian meals that we wouldn't even imagine. This is something I often heard from my vegetarian friends, and I didn't believe it until I tried it for myself.  
A famous Instagram influencer shared one of her favorite vegetarian meals on her YouTube channel. I was skeptical to try it because it was something new for me, but I followed along and tried to make her famous vegetarian tacos. 
As my first time trying the recipe, I made a few mistakes (I apologize for not focusing on the aesthetics when placing my ingredients on the tortilla… I was too hungry :)) Regardless, I was still impressed with how good it tasted. Prior to this day, I had never considered eating meatless tacos. Trying this taught me that reducing my meat consumption is possible, while still enjoying tasty meals. Now that you know some of the harm that eating meat causes the Earth, I encourage you all to try to reduce your meat consumption as well. You can start by trying out the recipe and seeing if you like it. It doesn't hurt to try!
Sources Used
https://www.peta.org/issues/animals-used-for-food/meat-environment/
https://www.peta.org/about-peta/faq/how-does-eating-meat-harm-the-environment/
https://ourworldindata.org/agricultural-land-by-global-diets
https://www.bbc.com/news/science-environment-46459714
https://www.agric.wa.gov.au/climate-change/carbon-farming-reducing-methane-emissions-cattle-using-feed-additives#:~:text=Ruminant%20livestock%20%E2%80%93%20cattle%2C%20sheep%2C,released%20to%20the%20atmosphere%20by  
https://www.omnicalculator.com/ecology/meat-footprint#meat-footprint-greenhouse-gas-emissions